Mentoring is a powerful tool that can change lives and create a lasting impact on individuals and society. But what exactly is mentoring, and why is it so important? In this blog post, we'll explore the concept of mentoring, its significance in personal and professional growth, and the ripple effect it has on communities and future generations. So, let's dive in and discover the magic of mentorship!
Mentoring is a relationship in which an experienced individual (the mentor) provides guidance, support, and encouragement to a less experienced person (the mentee) to help them grow personally and professionally. This relationship can be formal or informal, but the key ingredient is the willingness of the mentor to share their knowledge, skills, and wisdom with someone eager to learn and develop.
Behind every great leader is a great mentor who helped them navigate the challenges of leadership.
Dr. Leighton Ford
Throughout my life, I've been fortunate to have several mentors who have positively influenced my personal and professional growth. One such mentor is Dr. Leighton Ford, who recognized my passion for my faith and the development of leaders. He encouraged me to pursue it further and invited me to come to lead Arrow Leadership. His guidance and support led me to develop as a leader and a mentor. This ultimately led to a successful career as a mentor, writer and educator. Without Leighton's mentorship, I might never have realized my full potential.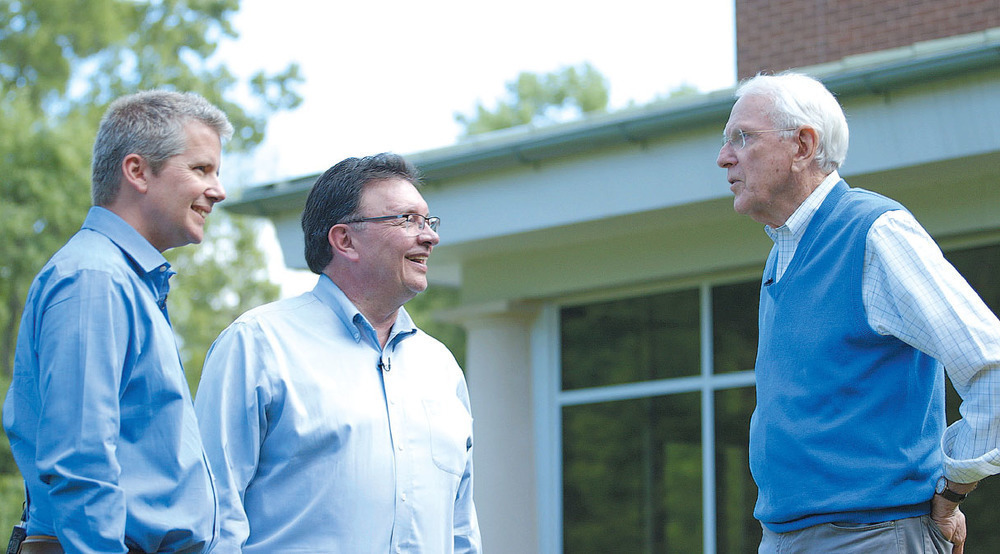 I then went on to mentor Steve Brown, who succeeded me as president of Arrow Leadership and went on to write three books on the subject of leadership. Steve and I have kept in touch over the years, and I'm always proud to see his work representing a high standard of excellence. He is now preparing to step aside as president and into a new role as an ambassador for Arrow Leadership and, in doing so, will be focused on writing and communicating.
Power of Mentoring
Leighton, Steve and I all believe in the power of mentoring. Research has shown that mentoring can have a significant impact on the personal and spiritual lives of Christian leaders, as well as on their leadership abilities in four areas:
Personal Growth: Mentoring has been found to be an effective way for Christian leaders to grow personally. According to a study published in the Journal of Psychology and Theology, participants who received mentoring reported higher levels of personal growth, self-esteem, and life satisfaction than those who did not receive mentoring.
Spiritual Growth: Mentoring can also help Christian leaders grow spiritually. A study published in the Journal of Psychology and Christianity found that participants who received spiritual mentoring reported greater spiritual maturity and a stronger sense of faith than those who did not receive mentoring.
Leadership Development: Mentoring has also been found to be an effective way to develop leadership skills. According to a study published in the International Journal of Leadership Studies, participants who received leadership mentoring reported greater leadership effectiveness, job satisfaction, and organizational commitment than those who did not receive mentoring.
Accountability: Mentoring can also provide accountability for Christian leaders. According to a study published in the Journal of Psychology and Theology, participants who received mentoring reported higher levels of accountability than those who did not receive mentoring.
Overall, research suggests that mentoring can be a valuable tool for Christian leaders seeking personal, spiritual, and leadership growth. Mentoring provides a supportive relationship where leaders can receive guidance, feedback, and accountability, which can help them become more effective in all aspects of their lives.
The power of mentoring goes beyond the individual level. When people invest in the growth and development of others, they create a chain reaction that extends far beyond the mentee. Mentees who have had positive experiences with mentors are more likely to become mentors themselves, thus perpetuating a cycle of growth and enrichment wherever they serve. This ripple effect can even span generations, as the lessons learned from mentors are passed down to future generations.
Pay it Forward by Mentoring
So, how can you become a great mentor and pay it forward? Here are a few actionable tips:
Listen actively: Be genuinely interested in your mentee's thoughts, feelings, and concerns. Give them your full attention and ask open-ended questions to encourage deeper conversations.
Share your experiences: Your life experiences and wisdom can provide valuable insights and guidance for your mentee. Be open and honest about your successes and failures and what you've learned from them.
Set clear expectations: Establish boundaries and define the goals of the mentoring relationship early on. Have a start and an endpoint. This will help both you and your mentee stay focused and committed to the process.
Encourage growth: Help your mentee identify areas where they can grow and improve, and provide them with the tools and resources they need to succeed.
Celebrate successes: Acknowledge and celebrate your mentee's achievements, no matter how small. This will boost their confidence and motivate them to continue striving for their goals.
By investing in the growth and development of others, we create a ripple effect of positivity that has the power to transform lives. So, why not take the first step today? Become a mentor, share your knowledge and experiences, and make a lasting impact on someone else's life. The world needs more mentors – just like you!
If you would like to talk about getting a mentor for this season of your life, email us at info@carsonpueassociates.com or visit www.carsonpueassociates.com.