Thank-you
Yes, you! Thank you for your interest in our new approach to executive mentoring and coaching. Let me take a moment to share why we are moving to a new team approach and how it works.
Mentoring and Coaching Today
The unprecedented pace of change in today's world means that organizations need to adapt, innovate and execute more quickly than ever to stay relevant. Leaders are challenged to meet short-term demands while also creating strategies for viability. For this reason, many men and women leaders are seeking coaching/mentoring.
Executive Mentoring and Coaching are tools used to increase capacity and perspective by engaging leaders in a rich learning environment focused on their leadership goals. For decades, Carson Pue has been mentoring some of the most significant Christian leaders around the world. They work in church leadership, not-for-profit organizations and businesses.
Modes of mentoring today include:
Informal – conversations that happen by chance or by arrangement

Formal – through relationships in a structured program

Peer mentoring – where two or three colleagues mentor each other

Reverse-mentoring – executive leaders mentored by younger leaders

Organizational Cascading mentoring – each level of an organization mentor those below

Group mentoring – a mentor meets with several mentee's at the same time

Mentoring round-tables – peers interact in a group mentoring conversation

Mastermind mentoring and business coaching– where experts coach those early on in their careers
The success of each of these modes is heavily reliant on two things:
The experience and skill of the mentor, and
The chemistry of the relationship.
---
What if we were to do mentoring as a team of people?"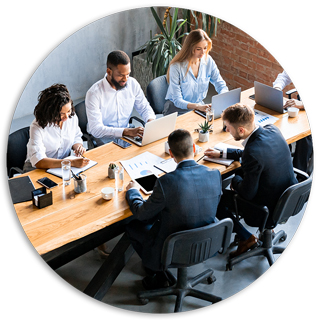 At the beginning of 2022, Carson took three weeks to reflect and build on an idea he had journaled about a year earlier. The premise of the idea was one question: "What if we were to mentor leaders and organizations with a team of people?" Since then, Carson asked some friends and experienced mentors if we might form a team offering a value-added experience in the mentoring of Christian leaders. All Associates are certified coaches and have expertise in a variety of areas of leadership and life.
By doing this we are able to serve leaders, boards and organizations seeking mentorship using our combined skills and experience. We have also been able to expand our mentoring services into areas such as pre-marital education, life coaching, and even encouragement and editing for authors.
How Does It Work?
Through the referral of previous clients, or a website search, Carson Pue and Associates is contacted to enquire about mentoring. Often, even this initial phone call is meaningful as we discuss their needs and growth areas.
Carson reviews each enquiry and if it seems 'obvious' an associate may be suggested right away and why they may be a good fit.
The client can schedule a Free & Confidential Consultation with one of our team for introductions and further explanation of how the mentoring/coaching takes place.
If there is a desire to go forward an agreement is signed for a three-month period of time and the number of sessions depends on the pacing. Urgent situations may call for weekly sessions but more likely every two weeks or even once a month is a possibility.
Carson meets with the Associates bi-weekly for an opportunity to pray for our clients and seek wisdom to assist in moving the leader and their organizations forward. It is a time of supervision for Associates, to share wisdom & experience. The client then receives the combined insight of the entire team.
Our Associate Team takes a personal interest in our clients. Through encouragement and feedback found in our meetings, we are better equipped for the development of strengths. We are also able to provide challenging and interesting assignments that will engage clients and motivate and stimulate growth. At times we realize that one of our Associates has experience in the issue being discussed and they may be invited into the relationship with another client.
Every file is treated as confidential and nothing is shared outside of our team supervision meetings.